BIENVENIDO | YUANTAI DERUN EN EXPOEDIFICA(SANTIAGO) 2017:: LA FÁBRICA DE HOLLOW SECTION MÁS GRANDE EN CHINA
Share
publisher

youyouxiaotian
Issue Time

2017/08/22
Summary
BIENVENIDO | YUANTAI DERUN EN EXPOEDIFICA(SANTIAGO) 2017:: LA FÁBRICA DE HOLLOW SECTION MÁS GRANDE EN CHINA,Una cálida bienvenida a la consulta y la negociación y el pedido
BIENVENIDO | YUANTAI DERUN EN EXPOEDIFICA(SANTIAGO) 2017:: LA FÁBRICA DE HOLLOW SECTION MÁS GRANDE EN CHINA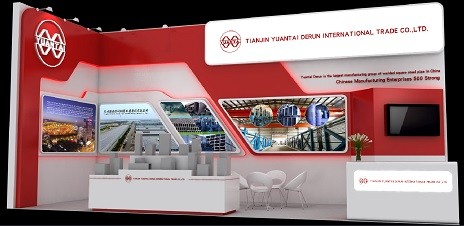 Tianjin YUANTAI DERUN Grupo de Fabricación

de Tuberías Co., Ltd.
*Clasificado en el puesto 228 de "500 empresas manufactureras
en China" del año 2016.

*Establecido en marzo de 2002, Yuantai posee 61 líneas de
producción,la producción anual es de 5 millones toneladas.
*Es el fabricante más grande que se especializa en Perfiles
Cuadradosy Rectangulares LAC, Structural Hollow Section,
Tubo Galvanizado y Tubo de acero Espiral en China.

*El tubo se puede fabricar según ASTM A500, EN2019,
DIN2240,BS1387, JIS G3466, AS1163 etc.
The San Diego Convention and Exhibition Center is located in the harbor area near the gas lamp block in downtown San Diego. It has 50000 square meters of space, including 32000 square meters of exhibition space.
The San Diego Convention and Exhibition Center is mainly located in San Diego, California. It is located in the Seaport District and belongs to the gas lamp neighborhood near the downtown of San Diego, which is opened in the West Port. The center is managed by the San Diego Convention Center Corporation and was founded by the city of San Diego as a non-profit public subsidy company.
In 1983, Santiago adopted a measure to build a new exhibition center in the Port of Santiago on the land it owns. Construction of the previous building began in March 1987 and was completed in November 1989. Currently, it has doubled its area and its construction was completed in September 2001. In September 2008, the center took steps to obtain an additional expansion plan.
The famous exhibition held every year at the San Diego Convention and Exhibition Center is the International Convention on Cartoon and the Society for Neuroscience. The live recording of the TV game program "Wheel of Destiny" was also exhibited at the Convention and Exhibition Center with participants from the San Diego region and broadcast nationally in 1997, 2003, and 2007. It hosted the 1996 Republican National Congress, nominating Dole and Jack CommScope as President and Vice President of the United States, and was also the venue of the 2007 California Democratic Congress.
HALL1 118-122 Espacio Riesco
4-7 OCTUBRE,2017
SANTIAGO DE CHILE
ESPECIO RIESCO
INVITANOS A SU OFICINA en chile-
9-13 OCTTUBRE,2017
SOBRE EDIFICA: http://www.edifica.cl/
MÁS INFORMACIÓN :
sales@ytdrgg.com
SALES3@ytdrgg.com