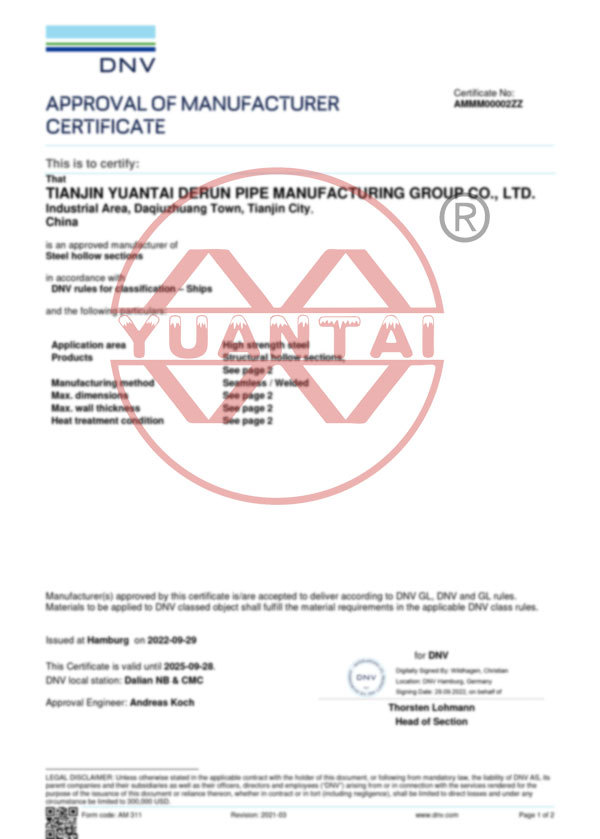 DNV Classification Society Certification
Item specifics
Period

2022/9/29 - 2025/9/28
No.

AMMM00002ZZ
Certification bodies

Dalian NB & CMC
Certificate description
At the beginning of 2023, the structural hollow section steel pipe products produced by Tianjin Yuantai Derun Steel Pipe Manufacturing Group Co., Ltd. passed the stringent DNV certification of Det Norske Veritas.
APPROVAL OF MANUFACTURER
CERTIFICATE
Certificate No
:
AMMM00002ZZ
This is to certify:
That
Industrial Area, Daqiuzhuang Town, Tianjin City,
China
is an approved manufacturer of
in accordance with
DNV rules for classification – Ships
and the following particulars:
See page 2
Manufacturing method Seamless / Welded
Max. dimensions See page 2
Max. wall thickness See page 2
Heat treatment condition See page 2
Manufacturer(s) approved by this certificate is/are accepted to deliver according to DNV GL, DNV and GL rules.
Materials to be applied to DNV classed object shall fulfill the material requirements in the applicable DNV class rules.
Issued at Hamburg on 2022-09-29
This Certificate is valid until 2025-09-28.
DNV local station: Dalian NB & CMC
Approval Engineer: Andreas Koch
for DNV
Thorsten Lohmann
Head of Section
LEGAL DISCLAIMER: Unless otherwise stated in the applicable contract with the holder of this document, or following from mandatory law, the liability of DNV AS, its
Job Id: 263.11-011697-1
Certificate No: AMMM00002ZZ
Form code: AM 311 Revision: 2021-03 www.dnv.com Page 2 of 2
Particulars of the approval
Grade Product
Manufacturing
method1)
Max. outer
diameter [mm]
Max. wall
thickness [mm]
Heat treatment
condition2)
NV A32, NV A36
NV D32, NV D36
Round SAW 915 30 AR
Grade Product
Manufacturing
method1)
Max. outer
diameter [mm]
Max. wall
thickness [mm]
Heat treatment
condition2)
NV A32, NV A36
NV D32, NV D36
Rectangular
Square
CFS, CFW
900*600
900*900
30 AR
NV A32, NV A36
NV D32, NV D36
Rectangular
Square
ERW
900*600
900*900
16 AR
Remarks:
1) CFS: Cold formed seamless
CFW: Cold formed welded
ERW: electric resistance welded
2) AR: as rolled