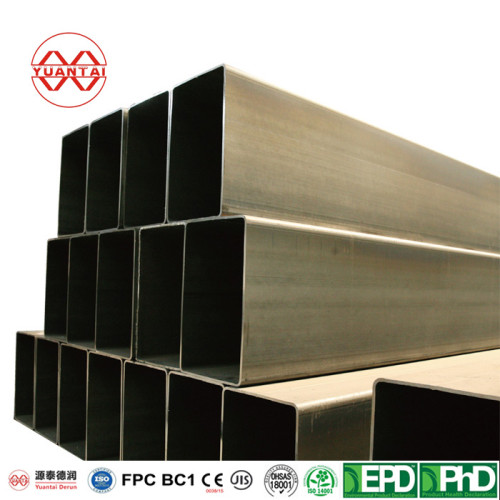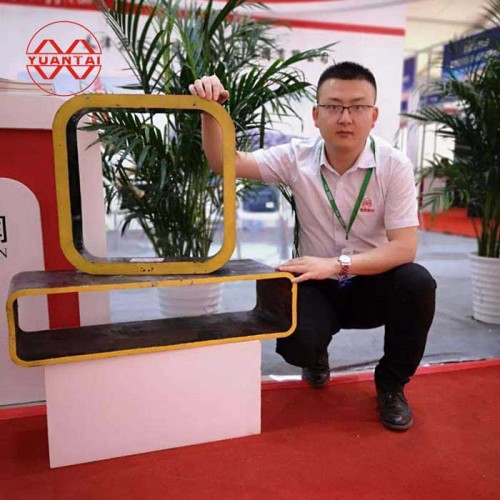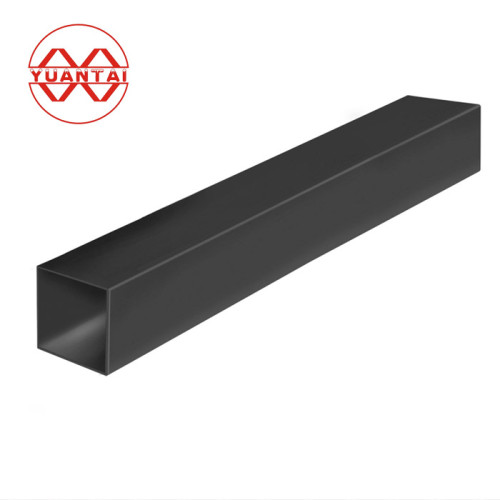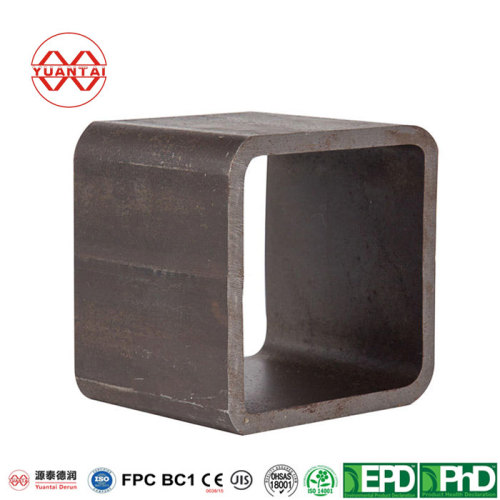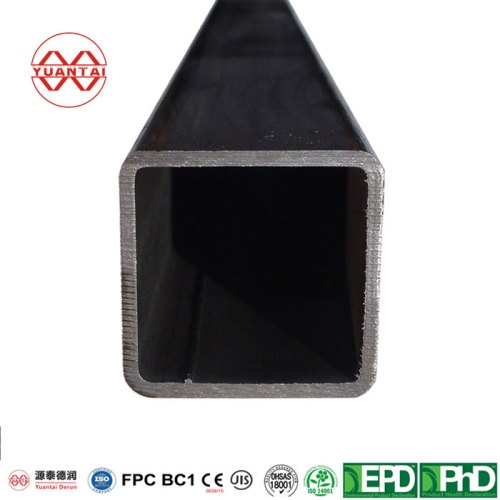 ODM EN10219 S355NLH black square hollow section factory metal pipe square tube
Model

hfw-yt-S355NLH metal pipe square
Item specifics
Thickness

0.5- 60 mm
OD(Outer diameter)

10*10-1200*1200mm
Certification

CE,LEED,BV,PHD&EPD,BC1,EN 10210,EN10219,ISO9000
Surface Treatment

Black painted or REQUEST
Tolerance

as required
Length

0.5-24M according to client requirement
Materials

S355NLH
Delivery Time

7-30 Days
Description
S355NLH black square hollow section is a crucial component in modern construction projects. These square section tubes offer numerous benefits due to their unique design and properties. In this article, we will explore the dimensions, manufacturing process, and advantages of S355NLH black square hollow section. We will also delve into the role of square tube factories in producing high-quality steel tubes and discuss their applications in various industries.
Overview of S355NLH Black Square Hollow Section
S355NLH black square hollow section is a type of square section tube made from high-strength steel known as S355NLH. The "black" in its name refers to the uncoated or non-galvanized surface finish of the tube. This square hollow section is widely used in construction projects due to its excellent structural properties and durability. It is specifically designed to withstand heavy loads and provide stability to structures.
One of the significant advantages of using S355NLH black square hollow sections is their resistance to corrosion and impact. These tubes have a high yield strength, which ensures their ability to withstand extreme weather conditions and structural stress.
Understanding Square Section Tubes
Square section tubes are versatile structural elements widely used in various industries, including construction, engineering, and architecture. These tubes are characterized by their square shape and uniform cross-section, making them ideal for applications where strength and aesthetics are important.
The square shape of these tubes allows for easy connections and integration into different structures. This feature makes them suitable for frameworks, supports, and other load-bearing components, providing stability and structural integrity.
Dimensions and Sizes of Square Steel Tubes
In construction projects, standardization of dimensions is crucial to ensure compatibility and ease of use. Square steel tube dimensions charts are widely utilized by engineers, architects, and builders to select the appropriate size for their projects.
These charts outline the various dimensions and sizes available for square steel tubes, including lengths, widths, and thicknesses. By adhering to these standardized dimensions, construction professionals can ensure efficient material utilization and seamless integration of the square section tubes into their designs.
The production of square steel tubes involves several stages in metal pipe factories. Initially, raw materials in the form of steel coils or plates undergo cutting and shaping processes to form rectangular strips. These strips are then bent and welded to create the square shape. Following this, the tube undergoes various finishing processes, such as straightening, sizing, and surface treatment to achieve the desired specifications.
Quality control plays a vital role in ensuring the structural integrity and durability of square section tubes. Metal pipe factories implement rigorous testing methods to meet industry standards and regulations. These tests may include dimensional analysis, mechanical properties testing, and non-destructive testing.
Importance of Square Tube Factories
Square tube factories play a crucial role in the production of high-quality square steel tubes. They employ advanced manufacturing technologies and ensure compliance with industry standards. Sourcing square steel tubes from reputable manufacturers guarantees the use of quality materials, precise dimensions, and consistent product performance. This is essential to ensure the safety and reliability of structures built using square section tubes.
EN10219 S355NLH chemical composition
Carbon ≤ 0.18%, silicon ≤ 0.50%, manganese ≤ 0.9-1.65%, phosphorus ≤ 0.030%, sulfur ≤ 0.025%, niobium ≤ 0.05%, vanadium ≤ 0.12%,
Aluminum ≥ 0.020%, titanium ≤ 0.03%, chromium ≤ 0.30%, nickel ≤ 0.5%, molybdenum ≤ 0.10%, copper ≤ 0.35%, nitrogen ≤ 0.015%,
EN10219 S355NLH mechanical properties
Wall thickness ≤ 16mm: yield strength ≥ 355MPa, tensile strength ≥ 470-630MPa, elongation ≥ 22%
16mm<wall thickness
≤
40mm: yield strength
≥
345MPa, tensile strength
≥
470-630MPa, elongation
≥
22%
Benefits of Using Square Section Steel Tubes
Square section steel tubes offer numerous benefits in construction projects. One of the primary advantages is their high strength-to-weight ratio, which enables the creation of robust structures without adding excessive weight. Additionally, the versatility of square steel tubes allows for compatibility with other construction materials, such as concrete and timber. This enables efficient and cost-effective designs.
Moreover, square section steel tubes are environmentally friendly due to their recyclability. They can be repurposed or recycled at the end of their service life, reducing wastage and contributing to sustainable construction practices.
Applications of Square Steel Tubes
Square steel tubes find application across various industries due to their versatility and structural properties. In construction, these tubes are commonly used for building frameworks, support beams, handrails, and decorative elements. In engineering, square section steel tubes are employed in machinery, equipment frames, and transportation systems. Architects often incorporate square steel tubes into their designs to create unique and visually appealing structures.
Advancements and Innovations
The field of square steel tube manufacturing is continuously evolving, with advancements in technology and design. Manufacturers are introducing innovative designs that offer improved strength, flexibility, and aesthetic appeal. Advanced fabrication techniques and materials are enhancing the overall quality and efficiency of square section tubes.
In conclusion, S355NLH black square hollow section is a vital component in construction projects due to its strength, durability, and versatility. Square section steel tubes offer various advantages, including high load-bearing capacity, ease of integration, and environmentally friendly attributes. Metal pipe factories play a significant role in ensuring the production of high-quality square steel tubes. Advancements and innovations in the manufacturing process continue to enhance the performance and aesthetics of square section tubes.
What are the advantages of using S355NLH black square hollow sections in construction projects?
1. Steel structure: S355NLH square tube is widely used in the construction of steel structures such as buildings, bridges, and towers. It can be used for columns, beams, trusses, and other structural components.
2. Pile driving: S355NLH square tube is often used for the construction of foundation piles, which are driven into the ground to support the structure or prevent soil movement. The high strength and toughness of S355NLH make it suitable for this application.
3. Infrastructure: S355NLH square tube can be used for the construction of infrastructure such as tunnels, pipelines, and retaining walls. Its high strength and corrosion resistance make it a good choice for these types of structures.
4. Mechanical engineering: S355NLH square tube is also used for mechanical engineering applications, such as the manufacturing of machinery, equipment, and vehicles. Its high strength and weldability make it suitable for these applications.
Overall, S355NLH square tube is a versatile steel material that can be used for a wide range of building applications. Its high strength, toughness, and weldability make it a popular choice for structural and mechanical engineering applications.
What are the common dimensions and sizes of square steel tubes?
1. 20* 20*1.5mm
2. 25*25*1 .5mm
3. 30*30*1. 5mm
4. 40*40*1.5mm
5. 50*50*1. 5mm
6. 60*60*2.0mm
7. 80*80*2.0mm
8. 100*100*2.0mm
9. 120*120*2.0mm
10. 150*150*2.0mm
How are square steel tubes manufactured in metal pipe factories?
The production process of square steel pipes mainly includes the selection of raw materials, flattening of steel plates, welding, straightening, cutting, straightening, and finished product inspection.
1. Selection of raw materials: The raw materials for square steel pipes are generally high-quality steel plates. According to different purposes and requirements, suitable materials are selected, such as ordinary carbon structural steel, low alloy high-strength steel, etc.
2. The selected steel plate needs to be flattened and repaired with mechanical equipment to ensure that the flatness of the steel plate meets the requirements.
3. Welding: The flattened steel plates are connected through a welding process to form a square tubular structure. Common welding methods include electric welding, gas welding, laser welding, etc. Choose the appropriate method according to different needs.
4. After straightening and welding, the square steel pipe needs to be straightened and stretched and compressed by mechanical equipment to meet the specified straightness requirements.
5. The square steel pipe after cutting and straightening needs to be cut according to customer requirements to obtain the required length of product.
6. After straightening and cutting, the square steel pipe may undergo certain deformation, and straightening treatment is needed to restore it to the specified shape.
7. Finished product inspection: Conduct quality inspection on the square steel pipes produced, including appearance inspection, dimensional measurement, mechanical performance testing, etc., to ensure that the products comply with relevant standard requirements.