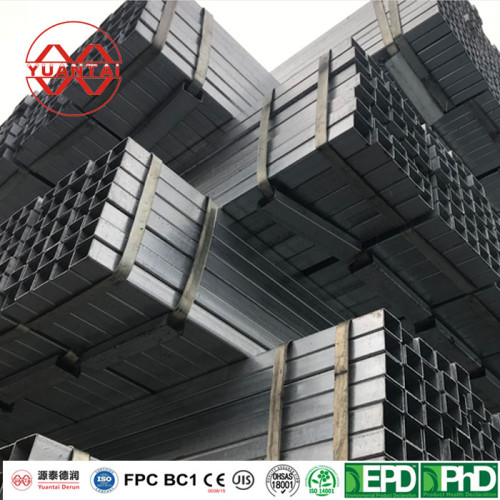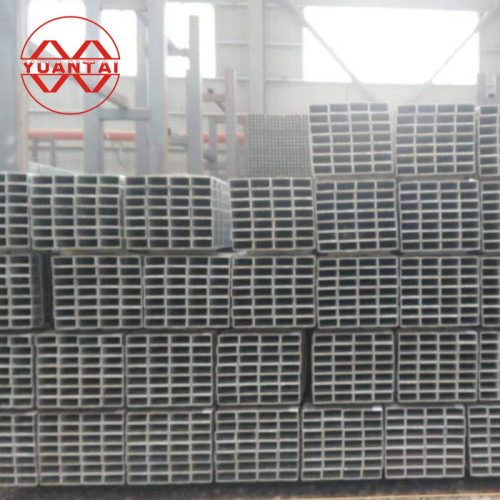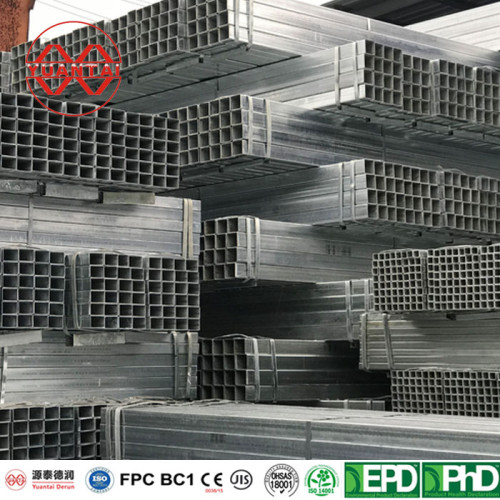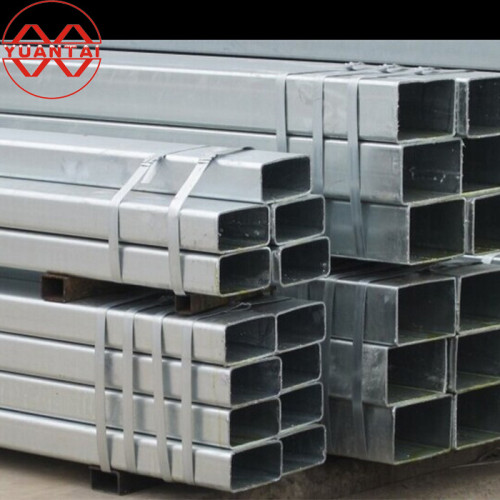 galvanized steel tubing suppliers|factory|manufacturer|producer|exporter
Model

hfw-a500 square tube
Item specifics
Thickness

0.5- 60 mm
OD(Outer diameter)

10*10-1200*1200mm 10*15-800*1200mm 10.3-3620mm
Certification

CE,LEED,BV,PHD&EPD,DNV,BC1,EN10210/10219,ISO9000
Tolerance

as required
Length

0.5-24M according to client requirement
Standards

Hollow section: ASTM A500/A501,EN10219/10210
Materials

Gr.A/B/C, S235/275/355/420/460,A36/A53/572/106
Delivery Time

7-30 Days
Description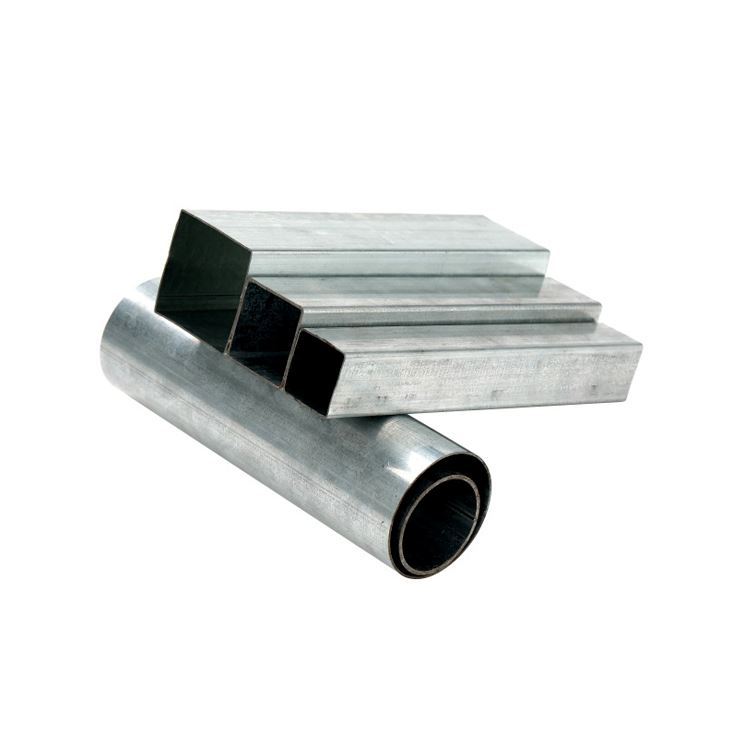 1.What's galvanized steel tubing?
At present, people often refer to galvanized steel tubing as galvanized strip steel tubing and hot-dip galvanized steel tubing. Galvanized strip steel tubing are gradually being replaced by zinc aluminum magnesium coated steel tubing due to low zinc content. Hot dip galvanized steel tubing react with molten metal and iron matrix to produce an alloy layer, thereby combining the matrix and coating. Hot dip galvanizing refers to the pickling of steel pipes first. In order to remove iron oxide on the surface of steel tubing, after pickling, the steel tubing are cleaned in ammonium chloride or Zinc chloride aqueous solution or mixed ammonium chloride and Zinc chloride aqueous solution tank, and then sent to the hot dip plating tank. Hot dip galvanizing has the advantages of uniform coating, strong adhesion, and long service life. The substrate of hot-dip galvanized steel pipes undergoes complex physical and chemical reactions with the molten plating solution, forming a corrosion-resistant and tightly structured zinc iron alloy layer. The alloy layer is integrated with the pure zinc layer and the steel pipe substrate, so its corrosion resistance is strong.
Benefits of Galvanized Steel Tubing
Galvanized steel tubing offers several advantages over other types of steel pipes. Firstly, the zinc coating provides excellent corrosion resistance, allowing the tubing to withstand harsh environmental conditions, including exposure to moisture and corrosive chemicals. Additionally, galvanized steel tubing has a long lifespan, reducing the need for frequent replacements and maintenance. Furthermore, these pipes are highly versatile and can be easily customized to suit a variety of project requirements.
Galvanized Steel Tubing Supplier: Finding the Right Manufacturer
When it comes to sourcing galvanized steel tubing, choosing the right supplier is of utmost importance. There are several factors to consider to ensure you partner with a reliable and reputable manufacturer. Key considerations include the supplier's experience and track record, the quality of their products, their adherence to industry standards and regulations, and their ability to offer competitive prices and timely delivery.
2.Theoretical weight table for galvanized steel tubing (executed according to GB/T3091-2001 standard)
specifications

O.D.(mm)

THK(mm)

Minimum wall thickness(mm)

Welded pipe (6-meter customized size)

Galvanized pipe (6 meter customized size)

Unit price/meter

Nominal inner diameter

inch

Meter weight (kg)

Weight of each piece (kg)

Meter weight (kg)

Weight of each piece (kg)

DIN15

0.5

21.3

2.8

2.45

1.28

7.68

1.357

8.14

7.3

DIN20

0.75

26.9

2.8

2.45

1.66

9.96

1.76

10.56

9.5

DIN25

1

33.7

3.2

2.8

2.41

14.46

2.554

15.32

13.8

DIN32

1.25

42.4

3.5

3.06

3.36

20.16

3.56

21.36

19.2

DIN40

1.5

48.3

3.5

3.06

3.87

23.22

4.1

24.6

22.1

DIN50

2

60.3

3.8

3.325

5.29

31.74

5.607

33.64

30.3

DIN65

2.5

76.1

4

3.5

7.11

42.66

7.536

45.21

40.7

DIN80

3

88.9

4

8.38

50.28

8.88

53.28

48.0

DIN100

4

114.3

4

10.88

65.38

11.53

69.18

62.3

DIN125

5

140

4.5

15.04

90.24

15.924

98.65

88.8
Steel Pipe Manufacturer: Producing High-Quality Products

Welcome to our Galvanized Steel Pipe factory, one of the leading manufacturers and suppliers in China. We are proud to offer a wide range of galvanized steel pipe products for a variety of industries and applications. With our commitment to quality, innovation and customer satisfaction, we have earned a reputation as a reliable and trustworthy supplier in the market.
Our galvanized steel pipes are produced using advanced technology and high-quality materials to ensure superior performance and durability. The hot-dip galvanizing process we use provides excellent corrosion resistance, making our pipe ideal for outdoor applications, structural supports, fence posts, and more. The galvanized coating also enhances the aesthetics of the pipe, ensuring a polished and professional finish.
As a leading Galvanized Steel Pipe supplier, we understand the importance of providing products that meet our customers' specific requirements. As such, we offer a variety of sizes and shapes, including square and rectangular steel pipes, to meet a variety of architectural and engineering needs. Our pipes come in different thicknesses and lengths, ensuring versatility and ease of installation.
In our factories, we utilize our extensive expertise and cutting-edge technology to produce galvanized steel pipes that meet and exceed industry standards. As a testament to our commitment to innovation, we have developed 80 patented technologies that have revolutionized the manufacturing process. This commitment to continuous improvement enables us to produce high quality products that are reliable, efficient and sustainable.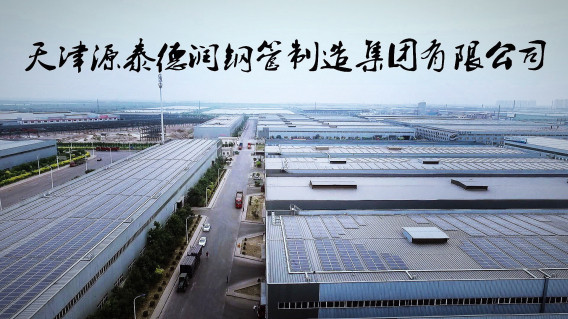 Universal structural steel pipe service provider
12 factories, 103 production lines, 80 patented technologies, China's top 500 private enterprises and China's top 500 manufacturing industries, with an annual output of 5 million tons and a perennial spot supply of 200000 tons. China's largest square tube manufacturer.
4.Galvanized steel tubing Application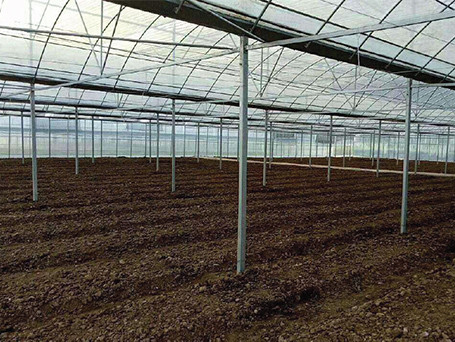 GREENHOUSE CONSTRUCTION
From 2017 to 2018, we provided 75000 tons of steel pipe products for the green house of the million feidan land improvement project in Egypt.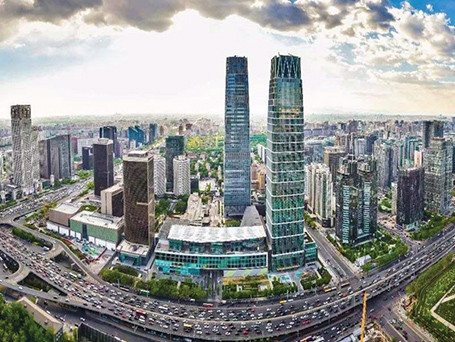 CBD business district building
From 2019 to 2020, we provided our steel pipe products for the building development of CBD business district buildings in Cairo, Egypt
5.Galvanized steel tubing specification table
6.Square Steel Pipe Exporter: Meeting Diverse Industry Needs
Square steel pipes are a popular choice in various industries due to their structural stability and aesthetic appeal. They find extensive use in construction, automotive, furniture, and other applications. Square steel pipes are known for their versatility, allowing for easy customization and adaptability to specific requirements. Whether it's for structural support or decorative purposes, square steel pipes offer a reliable solution.
7.Rectangular Steel Pipe Producer: Customized Solutions for Various Projects
Similar to square steel pipes, rectangular steel pipes provide numerous benefits for different projects. Their unique shape and design make them suitable for a wide range of applications, such as architectural features, frame constructions, and fencing. Rectangular steel pipes offer both strength and elegance, making them a preferred choice for many construction and design purposes.
8.Hot Dip Galvanized Steel Pipe Manufacturer: Protecting Against Corrosion
Hot dip galvanized steel pipes are specifically treated to protect against corrosion and increase their durability. The galvanization process involves immersing the steel pipes in molten zinc, creating a metallurgical bond between the zinc and the steel. This protective layer shields the steel underneath from rusting, ensuring long-lasting performance even in demanding environments.
9.A500 Square Tube: Superior Structural Strength
A500 square tubes possess exceptional structural strength, making them suitable for heavy-duty applications. These tubes are commonly used in the construction industry for structural support, framing, and architectural purposes. Their high strength-to-weight ratio and resistance to bending and torsion position A500 square tubes as a reliable choice for various project requirements.
Q1: What is the difference between galvanized and stainless steel tubing?
1. Essential differences
Galvanized pipes are called carbon steel, and their surface is coated with zinc to meet daily usage needs. Stainless steel pipes, on the other hand, belong to alloy steel and have corrosion resistance. Do not perform other treatments.
2. Price difference
Galvanized pipes are cheaper than stainless steel pipes, and having a bright surface on the galvanized pipe is sufficient. There is no way to achieve the shine of stainless steel pipes, and the effect will be slightly worse.
3. Performance differences
Galvanized pipes cannot be further processed, and the carbon content inside will be higher, containing better hardness and brittleness. Stainless pipes also have stronger performance and can be further processed.
Q2: Can galvanized steel tubing be used for outdoor applications?
Galvanized steel pipe is a steel pipe material suitable for outdoor use
It can withstand strong weather conditions such as sunlight and rain, and has good durability and applicability.
Q3: How can I ensure the quality of galvanized steel tubing?
In order to ensure the excellent quality of galvanized steel pipes, Yuantai Derun Steel Pipe Group mainly controls them from the following aspects. The first is raw materials, and high-quality raw materials are the first level to ensure the quality of galvanized steel pipes. We use steel plates or coils from large factories as raw materials.
The second is the molding process. Yuantai Derun adopts the most advanced technology in China, and every production step is strictly controlled.
The third is product testing. Yuantai Derun has a national level CNAS laboratory, and the mechanical properties, chemical composition, hardness, and metallographic structure of steel pipes are strictly tested according to customer standards.
Q4: Can galvanized steel tubing be welded?
Yes,galvanized steel pipes can be welded.
Q5: Are there any environmental concerns with galvanizing steel?
Galvanized square pipes are relatively environmentally friendly. When using galvanized square pipes, they will not cause any harm to human health and the environment. In fact, galvanized square pipes are just a category of decoration pipes. From the name, we can also see that the surface of this type of pipe is coated with a layer of zinc, and zinc itself is a material without any harmful substances.
Nowadays, galvanized square pipes are commonly used in the construction industry. When building buildings, most families choose to use this material.